APA joined more than 250 advocates in a return to in-person Capitol Hill advocacy on September 14, as part of the annual Rally for Medical Research Hill Day. The association also sponsored the broad group of more than 350 organizations participating in the rally. Participants made a united call for "robust, sustained, and predictable annual funding increases for medical research vital to the health of Americans and our global leadership in research and innovation" on behalf of the National Institutes of Health (NIH).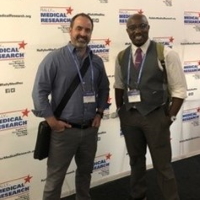 The Capitol Hill event celebrated the 10th anniversary of the advocacy day, unifying the scientific community in support of NIH. Consequently, the agency has seen its budget increase by $14.9 billion—or 49%—over the last seven years, including a $2 billion increase in fiscal year (FY) 2022. Participants thanked Congress for its support and urged it to provide NIH with $49 billion, a $4.1 billion increase in FY 2023.
Participants also encouraged Congress to complete its work on the FY 2023 spending bills as quickly as possible to avoid the disruptions caused by continuing resolutions. The House Appropriations Committee's version of the Labor, Health and Human Services, Education, and Related Agencies FY 2023 appropriations bill, which funds the NIH, would provide $47.5 billion, an increase of $2.5 billion, to NIH. The Senate Appropriations Committee's bill would provide NIH with $47 billion, an increase of $2 billion.
The advocates from 30 states made more than 190 visits to congressional offices. First-time advocates and APA members Kevin B. Freeman, PhD, from the University of Mississippi Medical Center, and Melvin Rouse Jr., PhD, from the University of Puget Sound, took part on APA's behalf.
Reflecting on the need for increased NIH funding to address youth mental health, APA Chief Science Officer Mitch Prinstein, PhD, explained, "Our nation's children and adolescents have experienced higher anxiety, fear, and stress rates due to the covid-19 pandemic. Increased NIH-supported preclinical and clinical research is essential to address young people's increasing mental health challenges, including recognizing the disproportionate burden borne by children and adolescents from marginalized communities of color." Prinstein also emphasized that "APA is grateful for Congress's support of NIH and psychological science and encourages it to provide consistent, steady, sustainable support so that we can respond to the challenges and growing demands surrounding our youth's mental health."