Thirteen psychologists joined more than 450 advocates to rally for psychological research on Capitol Hill on September 23 as part of the annual Rally for Medical Research Hill Day. In collaboration with more than 350 national organizations, APA again sponsored the highly visible science advocacy day on behalf of robust, sustained, and predictable funding for the National Institutes of Health (NIH) in fiscal year (FY) 2022. Participants thanked Congress for their support of the NIH over the past six years, including $1.25 billion in FY 2021.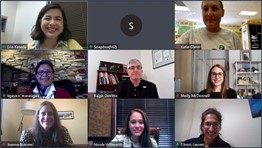 This year's advocates urged Congress to provide $46.4 billion (a $3.5 billion increase) to the NIH's base budget in FY 2022, as passed by the House in July. They also urged members to support the Research Investment to Spark the Economy (RISE) Act of 2021 (which was also a congressional request at the APA Services May 16 Stand for Science to Advance Psychology: Science Advocacy Summit 2021).
Rally participants also attended a Virtual Reception to Celebrate Medical Research the previous day, featuring NIH Director Francis Collins, MD, PhD, and congressional leaders.
Reflecting the need to support funding for NIH, APA's chief science officer, Mitch Prinstein, PhD, noted, "[t]he missing ingredient between medical breakthroughs and improved patient health is behavioral science. The discipline of psychology aims to understand the psychological risks for physical and mental symptoms, as well as the social, cultural, and psychological factors that guide people's health behavior decisions." Prinstein also highlighted APA's alliance with the science community "to urge Congress to provide NIH with substantial increases in funding so that all science can be used to promote physical and behavioral wellness, reduce health disparities, and guide the U.S. through the pandemic crises."
Participating psychologists included: Marc S. Atkins, PhD (University of Illinois at Chicago); Joanna Buscemi, PhD (DePaul University); Victoria Eileen Cosgrove, PhD (Stanford University); Ruth Colwill, PhD (Brown University); Julie Cristello (Florida International University); Carla Danielson, PhD (Medical University of South Carolina); Dylan Gee, PhD (Yale University); Jessica Hamilton, PhD (Rutgers University), Erin Harrell, PhD (University of Alabama), Amanda Jensen-Doss, PhD (University of Miami), Erin Kaseda (Rosalind Franklin University of Medicine and Science), Kelly E. Moore, PhD (East Tennessee State University); and Stephen Schueller, PhD (University of California, Irvine).
For more information, contact: Angela L. Sharpe, MG.