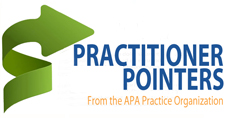 From HIPAA compliance and parity to coding and billing; we know members have questions about the issues that affect your practice. This section provides answers from APA Practice staff to common inquiries from members.
Selected questions will be answered in upcoming issues of the PracticeUpdate e-newsletter. 
If you have a question you'd like answered, please contact us. 
Practitioner Pointers Questions and Answers 
Supervising an intern or post-doctoral trainee 
For psychologists who are interested in supervising an intern or post-doctoral trainee.
Apps in daily practice
A handful of examples illustrates how apps can be used as clinical tools and for professional tasks.
Handling patient record retention and access when leaving a practice
This article provides guidance for psychologists when no written agreement exists.
How to handle non-complete and non-solicitation clauses 
Find out what to consider when presented with restrictive covenants in employment contracts.
Tracking your patients' insurance coverage
Why you should discuss and confirm insurance coverage with all of your patients regularly.
How to handle late and missed appointments
Be sure you have written policies in place to address the situation.
Resources for an ever-growing population's needs
A compilation of resources for psychologists who currently work with older adults or who may do so in the future.
*This article originally appeared in the Fall Journal from the California Psychology Licensing Board.
Patient referral fees raise red flags
If you think it's generally permissible to give or receive fees for patient referrals, you need to read this article.
Finding the right EHR for your solo or small group practice
Here's some general guidance on getting started.
How to handle record requests from patients
What to do when a patient asks for a copy of his or her patient record.

Does the use of Skype raise HIPAA Compliance Issues?
Practitioners should be aware of the risk involved.