What the COVID-19 telehealth waiver means for psychology practitioners
Emergency legislation and guidelines are temporarily expanding psychologists' ability to provide telehealth services to Medicare patients so they can receive treatment at home during the public health emergency.
CITE THIS
American Psychological Association. (2020, March 18). What the COVID-19 telehealth waiver means for psychology practitioners. http://www.apaservices.org/practice/legal/technology/covid-19-telehealth-waiver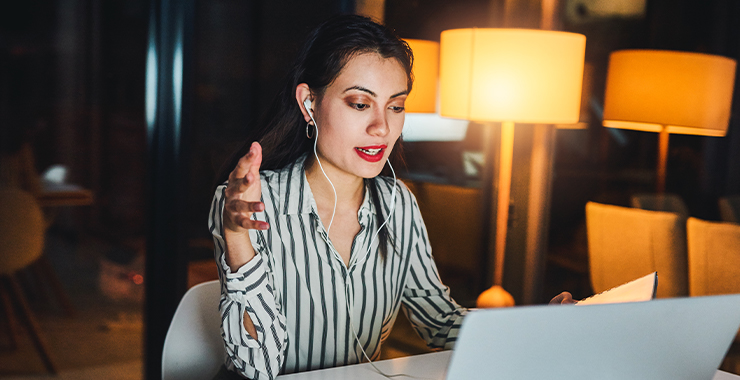 Psychologists who treat Medicare beneficiaries now have greater flexibility in providing telehealth services during the time of the COVID-19 public health emergency, thanks to a new law passed by Congress on March 6.
Under the Coronavirus Preparedness and Response Supplemental Appropriations Act 2020 and guidelines issued by the Centers for Medicare and Medicaid Services (CMS) on March 17, CMS is waiving key requirements under telehealth so that Medicare beneficiaries can receive services in their homes with fewer restrictions.
Here is what you need to know about the new legislation and guidance:
Recipients can now receive care in their homes. The new law temporarily lifts the "originating site" Medicare requirement, which states that Medicare recipients can only receive care at specific Medicare-approved sites such as critical-access hospitals, rural health clinics and federally qualified health centers. Under the new law, recipients can receive telehealth services in their own homes or in any health-care facility, any time during the length of the emergency.

The law also temporarily lifts the requirement that telehealth can only be provided in federally designated "health provider shortage" areas. During the crisis, Medicare recipients who live anywhere in a jurisdiction where a provider is licensed — whether that's urban, suburban or rural areas — can receive these services.
Provider practice locations aren't restricted, but further clarification is needed. The new legislation does not explicitly spell out where providers can or should practice. APA has reached out to CMS to confirm that psychologists can provide telehealth services from their own homes, and is awaiting an official response. APA will provide that information as soon as it's available.
Practitioners can use smartphones with audio and video capabilities enabled. Under the new law, providers can furnish telehealth services via smartphone (as well as computer-based platforms), but only if they include audio and video components that allow for two-way, real-time communication, says Deborah C. Baker, JD, APA's director of legal and regulatory policy. Psychologists may not be reimbursed in Medicare for phone therapy using traditional land lines or mobile phones without video components. Telephone-only sessions are reasonable and ethically appropriate in many circumstances, but they will not be reimbursed in Medicare at this point. APA will continue to advocate for telephone-only sessions.
HIPAA rules are temporarily relaxed. The U.S. Department of Health and Human Services (HHS) is exercising what it terms "enforcement discretion" and is waiving potential penalties for violations of the Health Insurance Portability and Accountability Act (HIPAA) for providers who use telehealth to treat patients during this time of crisis. The intent is to make it easier for providers to give necessary care at a time when office visits are generally not going to be possible, according to the HHS. In fact, they specifically referenced Skype, FaceTime and other noncompliant telehealth platforms as reasonable options to provide care for Medicare patients during this crisis.
There is a temporary lift on audits. Although the new law states that telehealth services should be limited to patients for whom providers have filed Medicare claims in the past three years, the CMS guidance states that HHS will not conduct audits related to the length of a given provider-patient relationship for claims submitted during this emergency period. In other words, HHS is not going to check whether your session was a new or a returning patient.
Billing remains the same. Under the new law, telehealth services are reimbursed at the same amounts as in-person visits, as was the case before the emergency. Therefore, psychologists should bill Medicare for telehealth services in the same way you would bill for an office visit, using the appropriate CPT® code for the service provided. For additional specifics on how to bill telehealth services and new e-Visit coverage for Medicare during this health emergency, see the expanded coverage on our website.
Advocacy action
Unfortunately, the new legislation applies only to Medicare beneficiaries. APA is taking additional steps to ensure that psychologists are properly reimbursed for telehealth services and have the information and support they need to provide high quality telehealth services during a time of emergency. These include:
Writing advocacy letters to private insurers, state regulators and state governors, to be jointly submitted by APA and state psychological associations. The letters urge private insurers to approve videoconferencing for all providers without limitation, as well as telephone-only services, interprofessional consultation and the elimination of barriers for existing telehealth coverage in the states. In addition, the letters urge states with limited or no telehealth coverage to lift restrictions to ensure continuity of care and to avoid risking further spread of the virus. APA is also asking that payers educate providers and patients on the availability and coverage of telehealth services as soon as possible.
Creating practical, user-friendly checklists for patients and providers on how to conduct or receive a telehealth session. These checklists are available in this issue of PracticeUpdate, as well as online:
○ Office and technology checklist for telepsychological services
○ Informed consent checklist for telepsychological services
Engaging with CMS to explore expanding telehealth to include psychological and neuropsychological testing.

Over the long term, APA Practice and Advocacy leaders will continue to advocate for psychologists' expanded ability to provide a broader range of telehealth services whenever the situation requires it — not just during times of emergency, adds Laurel Stine, JD, APA's senior director of congressional and federal relations and partnerships.

APA will continue to keep members apprised of developments as they occur. Government and payer policies in response to the coronavirus crisis are changing rapidly, so be sure to check our COVID-19 webpage frequently.
---
Legal issues are complex and highly fact-specific and state-specific. They require legal expertise that cannot be provided in this article. Moreover, APA and APA Services, Inc. attorneys do not, and cannot, provide legal advice to our membership or state associations. The information in this article does not constitute and should not be relied upon as legal advice and should not be used as a substitute for obtaining personal legal advice and consultation prior to making decisions.