How to do group therapy using telehealth
Group therapists are responding to COVID-19 by rapidly transitioning from in-person to online therapies.
CITE THIS
American Psychological Association. (2020, April 10). How to do group therapy using telehealth. http://www.apaservices.org/practice/legal/technology/group-therapy-telehealth-covid-19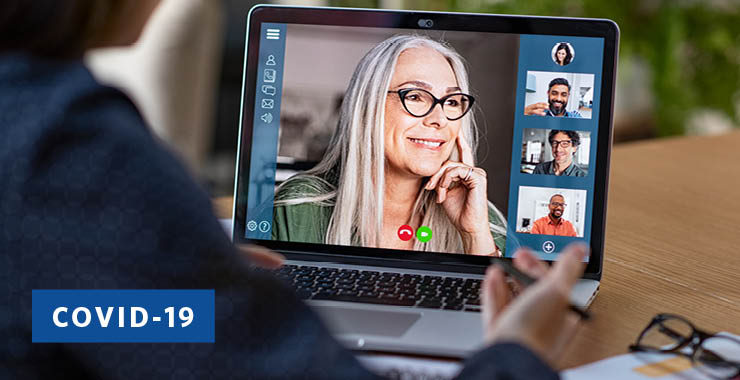 Research shows that group therapy is as effective, and in some cases, can be more effective, than individual therapy. At a time when social isolation is occurring in unprecedented ways, the role of groups as a protective factor is an important one. Online groups also offer therapists an efficient and effective way to support the mental health of the larger community during the COVID-19 epidemic.
Treatment types and billing codes for online groups
There are two specific code sets for telehealth group therapies under the emergency guidelines for Medicare: 
Group Psychotherapy by Telehealth (CPT Code 90853), which, as of March 30, 2020, was added to the temporary emergency provision of services rules changes for Medicare.
Health Behavior Assessment and Intervention Group codes (96164 and 96165).
Maintaining an ethical practice
Group telehealth requires competency in two areas — group therapy and telepsychology. Group therapy has been infrequently used in telehealth, so the applicable ethical and legal framework is still emerging. Before starting a telehealth group, psychologists should refer to the APA Ethics Code and to the APA Practice Guidelines for Telepsychology.
Establishing privacy and confidentiality
APA Ethics Code 10.03 states that in group therapy psychologists should "describe at the outset the roles and responsibilities of all parties and the limits of confidentiality."
While the group leader must maintain confidentiality, a group member (in most states) is under no such legal or ethical imperative. While potentially beneficial, video platforms are more hazardous than in-person groups, placing the client's confidentiality at greater risk.
Potential breaches to confidentiality may include, but are not limited to: 
A group member attending group in a non-secure location where a nonmember (such as a family member or roommate) can see or hear the group.
A member recording or taking a screenshot of the group members.
A member using recorded material to share the identity of or blackmail the group or a specific member.  
The consequences to a group member whose privacy is compromised may be significant to them individually and to the therapeutic nature of the group as a whole. That's why it's important for group psychologists to alert all members to the greater risks of teletherapy via a more prolonged informed consent process. Group members may then be presented with several treatment options, including but not limited to: 
Showing their faces during the session.
Wearing a disguise or blocking their faces using non-threatening, pre-approved masks that still allow for speech to be heard. (Note: Psychologists will not be reimbursed if a patient blocks the video feed of his or her face; this service would be considered telephone therapy, which is not reimbursable).
Using a fictitious name or only an initial as on-screen identification.
Temporarily leaving the group.
Finding another treatment modality.
The therapist should present the potential benefits of the group and contrast them with the potential for harm. 
Group leaders should have clients read and sign informed consent forms for group telehealth before the first session, so they are aware of the risks, benefits and limits to confidentiality. It is the group leader's responsibility to adhere to and uphold the highest privacy standards possible for the group.
Using a HIPAA compliant video platform
Privacy is a central concern in the ethical and legal provision of group therapy via telehealth. While privacy guidelines have been more relaxed due to COVID-19, and though the Health Insurance Portability and Accountability Act (HIPAA) requirements do not guarantee confidentiality, clinicians are strongly encouraged to utilize a HIPAA compliant platform to provide the highest level of security for the group whenever possible.
The federal government has waived penalties for HIPAA violations by providers in connection with the "good faith" provision of telehealth for the duration of the public health emergency.
Improving treatment with pre-group screening appointments
Group leaders should continue to conduct group screening appointments. Reviewing the informed consent and established group guidelines is critical to reducing group dropout rates, setting expectations, clarifying goals and maintaining the fidelity of the telehealth treatment.
Setting guidelines for group telehealth
Group leaders are encouraged to ask members to:
Be in a space free of distractions, where the patient is alone and can speak freely. Inform others in the location that they should not be disturbed during this time.
Wear appropriate clothing commensurate with attending group in person.
Have the technological means to attend the group. This includes being on a secure internet connection, rather than public or free Wi-Fi. Keep the video steady and at eye contact level. Phones or computers should be put on airplane mode to minimize interruptions. Wearing headphones or keeping the volume low can prevent sound from travelling to another room.
Follow any group-established policy regarding if a member, or the entire group, gets disconnected. If the group agrees, this may include having a member call in for the remainder of the session. Adhere to the group policy about how to handle a breach in confidentiality, such as a nonmember bystander witnessing the group or someone walking into a room while the group is meeting.
Practicing across state lines
Therapists must pay attention to state and federal guidelines for practicing across state lines if they are not licensed in the state where group members are receiving telehealth. Consult with your state licensing board regarding interstate practice policies.

Note: At press time (April 10, 2020) telephone therapy was not a billable service; however therapists should check for updates on billing and reimbursement on the Practice Resources in Response to COVID-19 webpage.