Since the start of the public health emergency, most practicing psychologists have stopped seeing patients in-person and shifted to only treating patients remotely to prevent the spread of COVID-19, newly collected APA data show.
APA recently conducted a survey on professional needs during the pandemic reaching more than 4,000 members and 1,400 nonmembers representing all areas of psychology. Of the more than 2,000 APA member clinicians who responded, three-quarters (76%) of clinicians say they are now solely providing remote services, primarily via phone, a designated telehealth platform—like Doxy.me and Thera-Link—or through videoconferencing software. A further 16% say they are also offering remote services in addition to seeing some patients in person.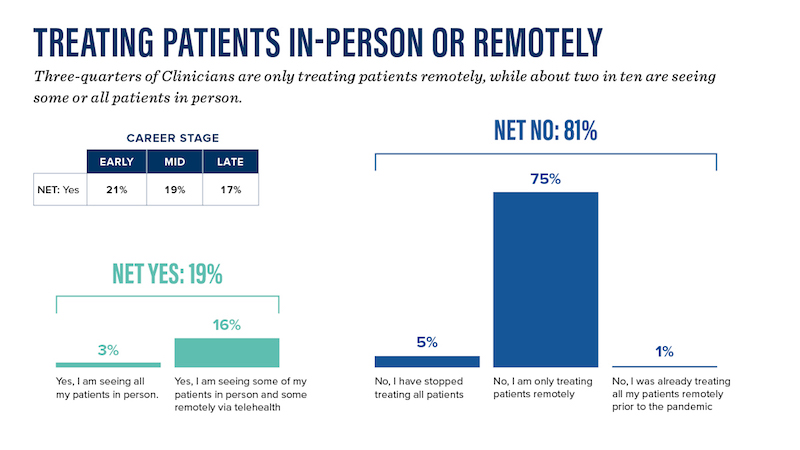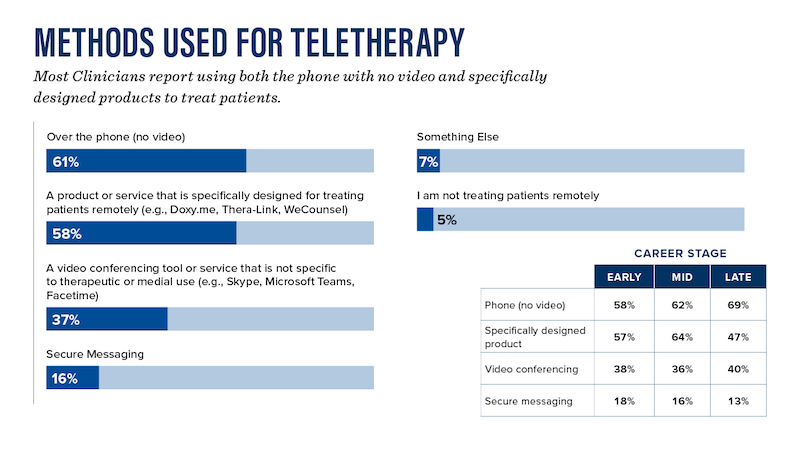 The survey, which was conducted between April 23 and May 6, also found that the pandemic is affecting practitioners' caseloads. More than half (55%) of the responding clinicians say they are seeing fewer patients and getting fewer referrals (64%) than before the public health emergency began. Some clinicians (15%) say they are seeing more patients and getting more referrals (10%) now.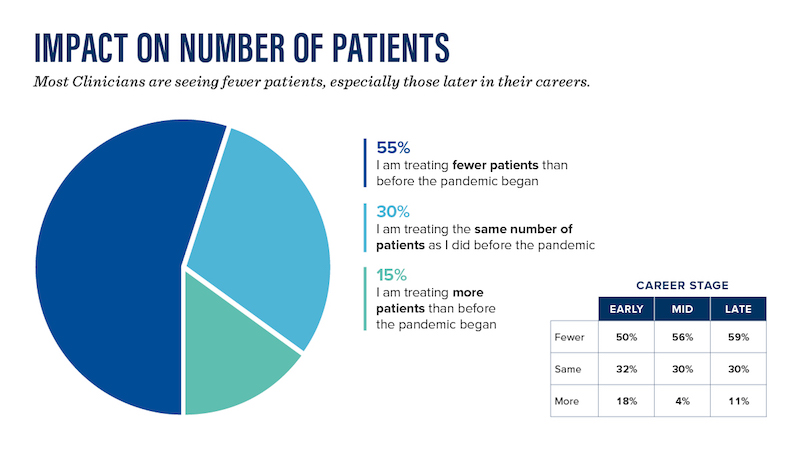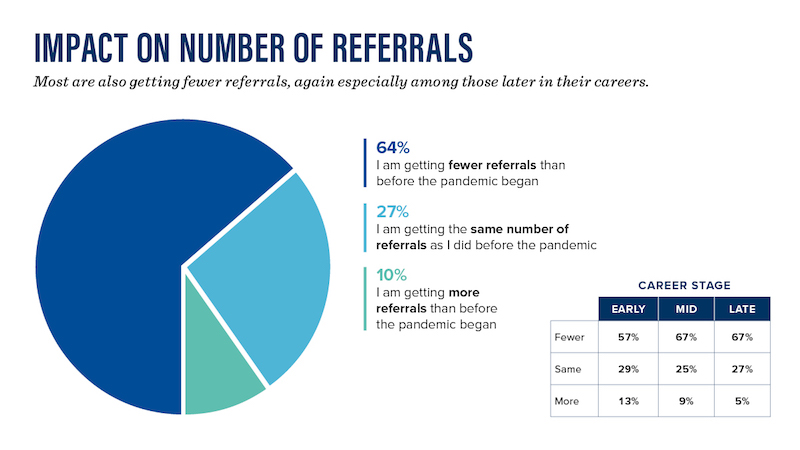 "There are a number of potential reasons that psychologists are getting fewer referrals and seeing fewer patients," says Jared Skillings, PhD, APA chief of professional practice. "COVID-19 caused many people to lose their jobs and their insurance. Also because most schools were closed, some psychologists and patients were less available for sessions due to caring for their children."
While some states are beginning to lift restrictions on business operations and elective health care services, APA has provided guidance about resuming in-person services. APA recommends that practitioners providing routine outpatient care continue to use telehealth as much as possible to reduce the risk of coronavirus transmission. To make it easier for psychologists to treat patients remotely, APA has:
Successfully advocated with the Centers for Medicare and Medicaid Services to remove restrictions to telehealth services so that patients and clinicians can stay at home, to allow tele-testing, and to allow audio-only phone services given the number of Medicare beneficiaries who may not have access to WiFi or devices with video capability.
Reached out to the Department of Labor seeking similar expanded policies for ERISA/self-funded insurance plans.
Collaborated with state psychological associations in advocating with governors, insurance commissioners, and Medicaid directors to expand access to telehealth services.
Requested that all payers (Medicare, Medicaid, as well as private and commercial health plans) enact a 12-month transition period following expiration of the national public health emergency declaration. This will give the entire health care system time to work out how telehealth practice will look going forward while maintaining current expanded telehealth policies.
Psychologists should keep in mind that temporary telehealth policies enacted in response to the COVID-19 state of emergency may change, says Deborah Baker, director of legal and regulatory policy at APA. When the public health emergency ends, providers may be expected to:
Use a HIPAA compliant telehealth platform (e.g., GoToMeeting or Zoom) to see patients. The Department of Health and Human Services currently allows practitioners to use certain technologies that aren't consistent with HIPAA (e.g., FaceTime and Skype) during the public health emergency.
Comply with regulations for practicing across state lines. Temporary state licensure waivers may expire, so psychologists should have a plan for out-of-state patients. For example, will the displaced patient be returning to the state where the psychologist is based? If not, does it make sense to transition the patient to a clinician in his/her community instead? Are you and your patient in PSYPACT states? If so, consider applying for credentials to practice out of state once the PSYPACT Commission begins accepting applications later this summer.
Offer fewer audio-only phone sessions. Right now, Medicare and many public and private payers will reimburse psychologists for phone-only sessions, but this could change after the public health emergency ends. APA will provide frequent updates on any changes that affect reimbursement for telehealth services.