Serious mental illness and COVID-19: How to help your patients right now
APA provides guidance on doing telehealth during the COVID-19 pandemic.
CITE THIS
American Psychological Association. (2020, May 1). Serious mental illness and COVID-19: How to help your patients right now. http://www.apaservices.org/practice/legal/technology/serious-mental-illness-covid-19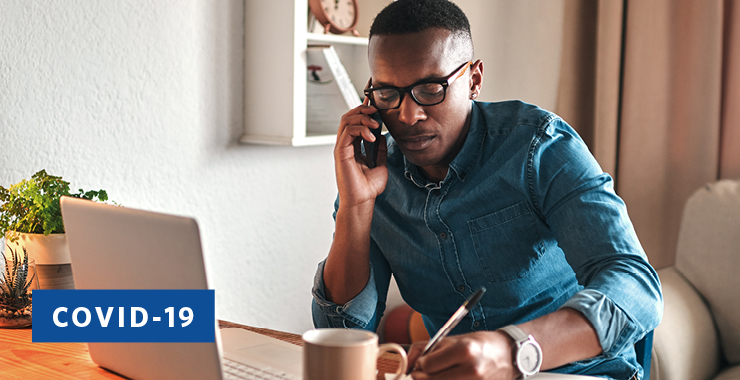 With the physical distancing brought on by the COVID-19 public health emergency, many psychologists who serve people with serious mental illnesses (SMI) are using telehealth for most appointments.
The APA Task Force on Serious Mental Illness/Severe Emotional Disturbance provides these recommendations and considerations for using telehealth to support individuals living with SMI while also paying special attention to concerns with COVID-19.
Many people with SMI may not be able to participate in telehealth
Research shows that some people with SMIs do not have smartphones or computers that can be used for video and/or audio telehealth sessions. Providers should not make any assumptions about a patient's ability to participate in video sessions. However, audio-only contact may still be useful for psychotherapy sessions since the Centers for Medicare and Medicaid Services will now reimburse psychologists for some phone-only sessions.
People living with SMI will have diverse responses to the COVID-19 virus
With or without a psychiatric diagnosis, some individuals are very anxious and stressed about COVID-19, while others appear to be coping more successfully and may even report greater creativity and productivity.
Some individuals living with SMI whose symptoms are marked by high levels of suspiciousness may be relieved with the distancing protocols. Other patients may be preoccupied with different concerns and be paying relatively little attention to the news. Some patients may view the COVID-19 virus as an affirmation of their fears or expectations.
Patients' responses may depend on their rate of exposure to trauma in their lifetimes. Understanding the unique impact of the pandemic on the individual is essential.
People living with SMI may need help understanding "safer-at-home" guidelines
Individuals living with SMI are disproportionately likely to have medical co-morbidities, such as obesity and hypertension, and to engage in smoking. As a vulnerable and often under-resourced population, it is critical that these patients be supported in managing physical distancing, stay-at-home orders, hygiene rules, and the use of masks and gloves.
Psychologists can help ensure patients understand COVID-19 health recommendations and encourage them to create and maintain schedules for exercise and meals, and can help remind them to take medications on time and be ready for appointments.
Psychologists may also want to prompt their patients to identify and engage in positive self-care activities, such as enjoying a cup of tea, knitting, reading, cooking and more. They may also want to encourage patients to interact with supportive people either in the home or virtually, and to limit exposure to the news and media if it is distressing.
Some patients may be homeless or living in group homes, apartments and other settings where they have to implement physical distancing, so psychologists may need to be creative about recommendations and solutions.
Patients' basic living and illness management needs may not be consistently met
Many individuals living with SMI live in poverty or close to it. During the COVID-19 public health crisis, they may need more assistance than usual in accessing housing, food, medicine and other essential resources.
People with SMIs often need access to medications and lab facilities to ensure stability, yet at this time some clinics may be closed or running short-handed. Psychologists can collaborate with the patient's psychiatrist to determine ways to stay safe while supporting the optimal medication regimen. It may be possible to lengthen prescription windows or extend time between getting blood work to address any lack of access to support.
Many people with SMI also may have serious physical, nonpsychiatric health needs not related to COVID-19. These patients may need assistance in advocating for themselves or help in determining whether to pursue medical care during the pandemic.
Psychologists who treat patients with SMI may also want to:
Consider holding a practice session with your patient to help familiarize them with telehealth technology.
Discuss the benefits and limitations of telehealth at the beginning. For example, technology can limit access to nonverbal cues for both the patient and the psychologist.
Consider replacing typical weekly or biweekly 45-minute psychotherapy sessions with briefer, more frequent telehealth meetings to shore up the alliance between you and the patient and keep material fresh while not adding more stress to the patient.
Focus on brief interventions to manage any increased levels of distress, by normalizing, discussing how to stay safe, understanding how they are interpreting current events and more.
Remind the patient of interventions he or she successfully used before, including review of relapse prevention crisis plans.
Normalize COVID-19 related concerns; appropriate self-disclosure can help with this.
Some patients with SMI will need additional problem-solving support during this crisis. Consider revisiting any Wellness Recovery Action Plans (WRAP) to examine the "value" of an intervention. Rather than focusing on access to a specific intervention, there may be other ways to meet the value it serves — for example, patients who no longer have access to the gym may need to create a body-weight routine at home for the value of physical health or not gaining weight.
While it can be challenging, many HIPAA-compliant telehealth platforms can host several patients at a time, so group psychotherapy work is possible. Visit the How to do group therapy using telehealth page for guidance, although it is not specific to individuals with SMI.