How to provide telehealth in nursing homes
Follow these tips for offering essential psychological services to older residents during the COVID-19 pandemic.
CITE THIS
American Psychological Association. (2020, April 16). How to provide telehealth in nursing homes. http://www.apaservices.org/practice/legal/technology/telehealth-nursing-homes-covid-19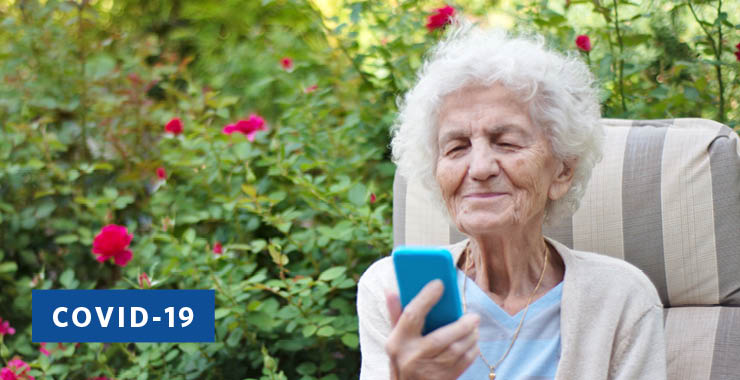 Older adults who live in nursing homes or long-term care (LTC) facilities are at the greatest direct risk of contracting the new coronavirus and having severe symptoms. To combat this threat, LTCs have enforced extreme social distancing measures, such as banning visitors and eliminating group recreational activities and congregate dining.
Unfortunately, those measures may also reduce social support for these older adults, which could trigger a large-scale mental health crisis in LTC. Fortunately, psychologists are considered "essential providers" and can continue to provide services to LTC residents.
Although psychologists, as essential healthcare workers, may continue to provide onsite services, for many reasons, in-person services may not be an option during the COVID-19 crisis. In these situations, telehealth is a viable service delivery modality to support LTC residents and maintain continuity of care.
The Centers for Medicare and Medicaid Services is allowing psychologists to offer telehealth services directly to LTC residents using common and easy-to-use videoconferencing platforms (such as Zoom Video, Skype and Facetime), via the client's own computer or smartphone or a facility-provided device.
Providing telehealth in LTC facilities can be challenging because most residents do not have their own personal devices. In addition, facilitating services requires coordination with staff already overburdened by the current health care crisis.
Here are ways psychologists can help ease the telehealth process for LTC residents.
Contact facility staff
Reach out to your main contact at the facility and work together on developing a telehealth service plan. Ask whether the facility has an appropriate device for telehealth, or will one need to be acquired? Is the facility already using a telehealth platform for other medical providers that you can join?
Identify an onsite telehealth liaison
Assist with selecting a staff member who can help set up and transfer the telehealth devices from patient to patient and perform necessary infection control protocols.
Consider fewer sessions per site
Psychologists who service multiple facilities may want to do sessions across multiple sites in one day to limit the time burden on any given day to the telehealth liaison. Seeing four to six patients over a three-hour time period versus 10 patients across a full eight-hour shift will allow for a more realistic workload for the telehealth liaison. Be flexible with your schedule and try to work around their availability.
Be creative in surmounting the technical and practical barriers
Many nursing home patients may not have a computer or smartphone, and successful telehealth requires the facilities to have a portable device such as a tablet. For facilities that do not have such devices, supplying one yourself may facilitate quicker start-ups. For patients who do have smartphones, you can ask for their numbers and set up sessions with them directly.
Educate and encourage the staff
As staff work to address the medical and daily care needs of LTC residents during this crisis, they may not initially identify mental health needs as essential. Educating them on the fear, anxiety, loneliness, retraumatization triggers and other emotional aspects of the pandemic is important. In addition, consistently reinforcing and expressing appreciation for the facility's efforts in supporting telehealth services will go a long way.
Provide information on Medicare's telemedicine facility fee
Many Medicare administrative contractors lifted the rural requirement to bill the originating facility fee for coordinating the telehealth session.
In these situations, the facility can bill the facility fee for the duration of the COVID-19 public health emergency. The originating site is eligible for payment of an originating site facility fee for telehealth services, which is separately billable to Medicare Part B
This fee can often cover an hourly rate employee that could be just devoted to facilitating telehealth and ensuring patients have access to essential behavioral health services.
Consider funding opportunities to support telehealth services
Psychologists working in certain health care settings can now apply for funding to cover telehealth services and devices under the CARES Act. Skilled nursing facilities are one of the listed eligible healthcare settings.
For more information, visit the telecommunications funding program accepting applicants page.
Overall, being flexible and engaging, with regular communication and follow-up, will lead to more successful telehealth implementation in LTC facilities. During this time of crisis, your behavioral health expertise remains essential to support the residents, staff and facility at large.