Telephone psychotherapy: Ensuring patients have access to effective care
Wondering if phone-only psychotherapy will be effective for your patients? Research evidence suggests it will.
CITE THIS
American Psychological Association. (2020, April 1). Telephone psychotherapy: Ensuring patients have access to effective care. http://www.apaservices.org/practice/legal/technology/telephone-psychotherapy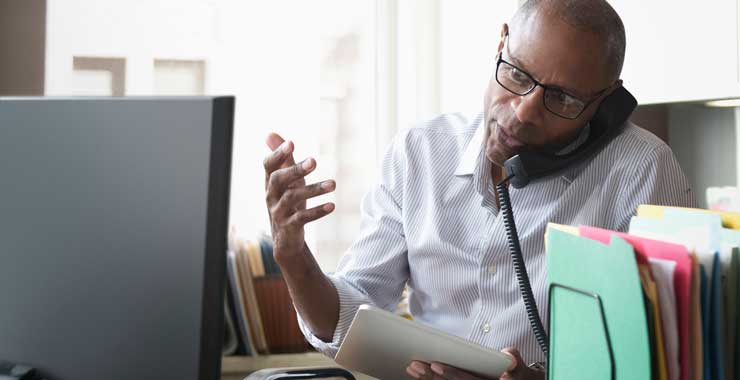 The COVID-19 pandemic has led to a rapid transition where meetings, conferences and psychological appointments are conducted virtually, by telephone, video and over the web.
But long before video teleconferencing was an option, psychologists and other health-care providers connected with patients over the telephone and provided support and intervention as needed. Years of research support the efficacy of providing psychological interventions over the telephone (Varker, Brand, Ward, Terhaag and Phelps, 2019).
Accessibility and continuity of care
Access to phone-only services is a health equity and social justice issue. Many patients and some providers do not have access or capability to use cellphones with video chat or have internet service or sufficient broadband speed. This is especially true for the many vulnerable populations served by psychologists, including older adults, those with disabilities, rural residents, people who have a lower income and others.
While psychologists and patients may be accustomed to in-person, face-to-face practice, phone-only services can ensure that people who need psychological services can still access necessary care during this time of COVID-19.
Effective for a variety of different health conditions and backgrounds
More than 20 years of research demonstrates that psychotherapy delivered via the phone is as effective as the care delivered in person. A review of 13 studies found significant reductions in symptoms of anxiety and depression when therapy was provided via telephone (Coughtrey and Pistrang, 2018).
These findings extend to patient populations with co-occurring medical disorders (Heckman et al., 2017, 2018; Thompson et al., 2015). Similarly, older adults also benefit from telephone therapy (Brenes et al., 2010 and Mozer et al., 2008), a particularly important finding given that these individuals may have less familiarity and access to videoconferencing and are often at greater risk for COVID-19.
Satisfied patients and positive change
Patients report high satisfaction with telephone therapy (Turgoose et al., 2018). In fact, in some studies comparing teletherapy to traditional therapy, patients participating in teletherapy completed a higher number of sessions prior to dropout than those participating in in-person therapy (Hernandez-Tejada et al., 2014).
There is also evidence that a strong therapeutic alliance can be established when conducting phone therapy (Stiles-Shields et al., 2014) and even that suicidality can be reduced with interventions delivered over the phone (Rhee et al., 2005). Finally, prevention of relapse and improvement of health behaviors can be successfully achieved via telephone psychotherapy (Baker et al., 2018).
An additional tool for optimal care
In a time when many people are feeling overwhelmed and anxious, continuity of care is essential. Psychologists and other mental health care providers will want to carefully weigh their options for providing care to both current and new patients at this time.
There is a need to balance the advances in technology with one's own comfort and competence with using these tools in order to best meet the needs of the population. Given the large amount of research indicating that psychotherapy delivered via the phone can be as efficacious as the care delivered in person, psychologists have one more tool to utilize to provide optimal care to patients.
Psychologists are skilled at helping others adapt and change behavior and now is a critical time to expand their ability to meet patient needs in new ways.