Is your patient's anxiety or depression related to COVID-19?
Use this specialized guide for conducting evaluations during the pandemic.
CITE THIS
American Psychological Association. (2020, April 9). Is your patient's anxiety or depression related to COVID-19? http://www.apaservices.org/practice/news/anxiety-depression-covid-19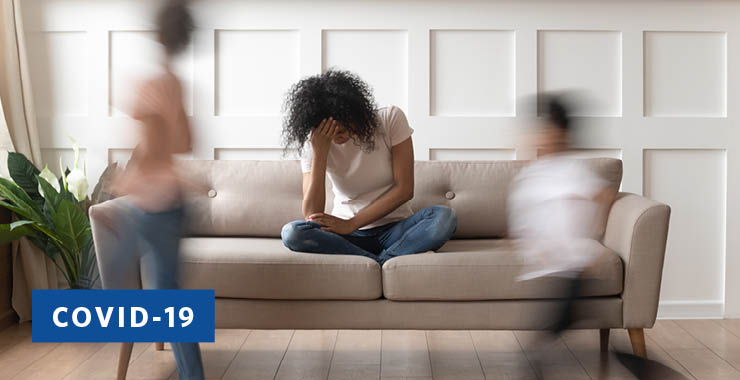 The COVID-19 pandemic has caused a significant spike in anxiety and depression — especially grief and loss — worldwide. With most Americans under stay-at-home orders, psychologists are seeking guidance on telehealth to ensure patient access to high-quality care. This guide offers a potential protocol for conducting diagnostic "intake" evaluations for adults with depression and/or anxiety during the coronavirus pandemic. This evidence-based guidance is helpful in interviewing patients for COVID-19 stressors, health behaviors and risk management, health-care access, and family and sociocultural factors.
In addition, there are two clinical templates available for psychologists to use or modify as needed.
Note: Over-arching rules for the assessment is to be genuine, express empathy and don't over-pathologize.
Complete the following items pre-session
Discuss the potential risks/benefits of telehealth sessions with the patient(s).
Get a signed informed consent from your patient(s) or patient's legal representative. If the psychologist or patient is quarantined, informed consent must be signed electronically; use encrypted email/messaging.
Do you have a back-up plan in case of technical difficulties? In case of a crisis? What contact information do you have? Do you know the local resources (e.g., emergency room) located near the patient?
Provide information on how the session will be billed, including whether the patient will be billed if late/no-show.
Request that the patient complete the Adult Health History form and GAD-7 and PHQ-9 (PDF, 151KB) prior to session.
Begin the assessment
Welcome patients to your virtual office just as you would your traditional office.  Engage in whatever rapport building you normally do in session.
Explain that you are doing telehealth services to keep you and them, and your friends/family safe during the COVID-19 crisis.
Ask them to provide a brief summary of why they are seeing you.
Assess depression and anxiety
Review patient's current symptoms of depression and anxiety, referencing PHQ-9 and GAD-7 screening.
Follow-up with open-ended questions to identify unhealthy cognitions and behaviors related to COVID-19.
Identify if behaviors are (a) Avoidant or (b) Over-Compensation.
Identify whether avoidance strategies produce anxiety and/or depression.
Assess social resources and stressors
Review Adult Health History about social, work, financial situation. Confirm and ask follow-up questions as needed.
Ask for 1-10 SUDS rating regarding current family work status.
Review Adult Health History about family situation.
Identify strengths and stressors regarding partner/spouse, children, extended family and others.
Identify function of stress in relationships (e.g., survival/wellness, social contact, intimacy).
Collect 0-10 rating of happiness/satisfaction for current family relationships (0 = worst; 10 = best).
Consider social/cultural issues.
Inquire about patient's perception of their sociocultural identities and how sociocultural factors (e.g., race/ethnicity, housing, utilities, food access, transportation finances), and the intersection of those factors, affect their coping with COVID-19.
Assess medical health
See CDC recommendations of high-risk conditions for COVID-19.
Conduct standard health/medical history.
Note: The risk for hospitalization or intensive care is about two and a half times higher if a patient has one or more chronic health conditions.
Interview for diagnoses of known health disorders related to increased risks from COVID-19.
Identify type of disease, course of disease and treatments. Examples below:
Diabetes
Heart diseases (including hyperlipidemia)
Lung disorders
Immunocompromised
Chronic renal disease
Pregnancy
Neurologic/neurodevelopmental
Chronic liver disease
Other chronic disorders (based on CDC with prevalence at or above 5% of the sample = hypertension; thyroid disease; gastrointestinal disorder; cancer or history of cancer; rheumatologic disorder; hematologic disorder; obesity; nonrheumatoid arthritis; musculoskeletal disorder other than arthritis; urologic disorder; cerebrovascular disease; obstructive sleep apnea; fibromyalgia; gynecologic disorder; pulmonary or venous embolism)
Cigarette smoking history and current status
Assess if the patient has access to primary and specialty heath care, and any recent use.
Identify primary care physician (Last visit? Available for telehealth?)
Identify specialty physicians/providers (Last visit? Available for telehealth?)
Assess for COVID-19 protective habits and knowledge.
Has 30 day or more supply of medications?
Frequent hand-washing?
Physical distancing?
Essential travel only?
Is aware of most relevant COVID-19 symptoms? They are fever, dry cough, trouble breathing, muscle aches and tiredness. If the patient is not aware of these symptoms, the psychologist should provide education.
Review COVID-19 stressors on Adult Health History form. Follow-up as needed.
Develop and document initial diagnostic impressions and case formulation
Consider other assessments, screening and the plethora of personal, family, work, financial and existential stressors.
Motivational interviewing
Asking permission to discuss treatment planning.
Ask open-ended questions to help them identify what's most important in their life.
Ask open-ended questions about how treating (anxiety/depression) could help achieving what's most important.
Ask open-ended questions about how treating (anxiety/depression) could have costs like initial increase in stress or use of patient's time.
Ask open-ended questions about willingness to try treatment for (anxiety/depression) related to the pandemic.
If the patient expresses readiness to, move to treatment planning.
If the patient is not ready to change or ready for psychological treatment, explore their rationale with empathy. Consider delaying treatment, recommending alternatives, and/or consult with colleagues as needed.
Treatment planning
Offer treatment recommendations — virtual vs. in-person format, frequency, expected duration, areas of focus, etc.
Consider patient preferences.
Review patient's satisfaction with session.
Ask patient for any questions.
Schedule next session if the patient says yes to treatment.
This guidance is based on Skillings and Arnold's 2016 "Holistic CBT" model of biopsychosocial & integrated care. It was adapted from a protocol developed by the Center for Cognitive and Behavioral Therapy and Central Ohio Primary Care.