How COVID-19 may affect presurgical psychological evaluations
Experts offer guidance on assessing patients for surgery during the pandemic.
CITE THIS
American Psychological Association. (2020, April 16). How COVID-19 may affect presurgical psychological evaluations. http://www.apaservices.org/practice/news/presurgical-psychological-evaluations-covid-19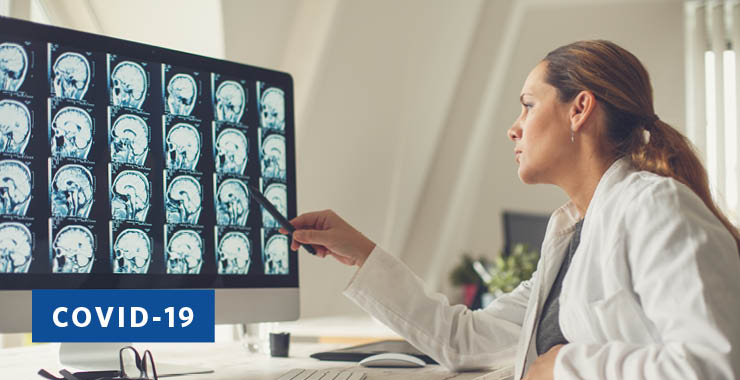 Psychologists often perform presurgical psychological evaluations to identify psychosocial risk factors associated with poorer surgical results in patients, as well as the strengths and assets that can positively influence the outcome of surgery. But presurgical psychological evaluation during the COVID-19 pandemic presents several unique challenges.
For psychologists doing these evaluations, here are some factors to consider and recommendations for moving forward during this time.
How is the COVID-19 pandemic affecting the patient?
The coronavirus crisis, while stressful for all, carries with it unique challenges to a candidate for elective surgery. Since many states have mandated the delay of elective surgeries until the crisis ends, patients are forced to live with their physical conditions for a longer, uncertain period of time. Further, worries about becoming infected with COVID-19 while physically impaired can lead to increased stress.
Recommendation
Be aware that some of the emotional distress displayed by certain patients may arise directly from experiences of the pandemic and may not represent long-term concerns once the COVID-19 crisis passes.
Is the patient under-reporting or over-reporting psychological distress?
Many patients undergoing a presurgical evaluation may feel they need to "underreport" psychological distress to be considered acceptable surgical candidates. In addition, distress related to the pandemic can lead to over-reporting. Determining under- and overreporting in telehealth evaluations is even more difficult than in standard evaluations.
Recommendation
Mitigate potential symptom validity issues by using several methods, including observing inconsistencies between patients' statements about themselves and their behavioral presentation and/or their collateral information; psychometric testing that incorporates validity testing (such as the MMPI-2-RF or Battery for Health Improvement-2); and examining medical records to determine whether the patient has appeared exceptionally distressed at previous appointments.
What do the patient's medical records say?
A review of a patient's medical records allows the psychologist to identify factors that may affect the surgeon's decision-making, as well as patient characteristics and behaviors, history of compliance and medication use, previous surgical successes and failures, and other potentially relevant factors.
Recommendation
Try to gain access to the most complete medical information. Some psychologists may have remote access to electronic medical records, and these should be examined especially closely when conducting telehealth evaluations. When electronic medical records are not available, the psychologist should contact the referring physician's office and request copies of relevant evaluations, office visit notes and surgery slips, sent by secure email. If possible, contact the referring surgeon to clarify any concerns.
Should the evaluation be postponed if the surgery is delayed?
Health systems nationwide have canceled elective procedures to reduce risk exposure and conserve supplies needed for COVID-19 response. However, time-sensitive surgeries (e.g., some cancer surgeries, some solid organ transplants) may continue to be provided without substantial delay. Patients may also choose to postpone or cancel planned procedures due to changes in health, financial, insurance-related or other personal circumstances.
When a procedure is expected to be delayed, the timeliness of psychological assessment can affect the validity and usefulness of the findings. The coronavirus pandemic may affect the stability of certain psychological domains to be assessed, including lifestyle factors and social support (for example, transportation and in-person caregiving).
If the practitioner plans to incorporate additional sources of collateral information into the assessment, the final recommendation may need to be delayed until that information is documented and available. When assessment is required as a condition of reimbursement, payers may limit the time elapsed between psychological assessment and procedure (e.g., 12 months).
Recommendation
Consider delayed assessment, or re-assessment of some or all domains closer to the expected time of an elective procedure.
Will you be able to adequately observe the patient's behavior via telehealth?
During this pandemic, telehealth assessments can be safer for the patient, caregivers and the psychologist. However, there are limitations when the assessor is not able to be in the same room as the patient.
With a good audio and or video connection, the psychologist can still make many behavioral observations regarding patient's eye contact, rate and rhythm of speech, prosody, distractibility and the like.
However, some potentially important information can be lost. For example, most video formats focus on the shoulders and face of the patient, but it can remain unclear what's happening outside of view. For example, is the patient bouncing their legs anxiously or exhibiting pain behavior?
The assessor also loses the ability to watch the patient walk back to the assessment room, which can give information on gait or use of an assistive device. Even the smell of the patient is uncertain, which can give important information about hygiene, smoking or alcohol use behaviors. Loss of some of this information is unavoidable when using telehealth.
Recommendation
Observing patient behavior in a telehealth format remains just as important as in a traditional face-to-face assessment. The psychologist must recognize information that may be lost in the remote assessment and seek out converging evidence from collateral sources of information, such as key informants and any available health records.
Is the testing process used during the evaluation reliable?
Many practitioners include some form of psychological testing in their pre-surgical psychological assessments. During the pandemic, providers may be tempted to replicate their full testing battery via telehealth; however, there are limitations. Research on administering many of these tests and measures via telehealth is scarce, though this does not necessarily mean that test scores are invalid.
Recommendations
Ask about the patient's potential testing environment. Alterations to the testing environment should be considered in test interpretation:
The psychologists' administration of tests and measures should match in-person administration as closely as possible (e.g., live observation, distraction-free environment) to protect the quality of data obtained.
The psychologists should discuss and have the patient sign a separate consent form to protect test security and credibility of responses on tests and measures. This consent form should outline essential standardized directions that the patient agrees to. For instance, it may contain language about consent regarding taking tests and measures in a secluded, quiet environment; the need to be the sole test taker and not receive help or input from others; agreement not to record the evaluation or take screenshots/pictures of the items; and agreement to complete and submit testing materials within a reasonable amount of time.
Can you maximize psychometric testing validity?
Because telehealth evaluations limit the physical presence of the patient, the psychologist will need to obtain collateral information to substantiate the conclusions.
Recommendation
Obtain collateral information by interviewing family members or significant others; conducting psychometric testing designed for assessing specific surgical candidates; and reviewing past psychological evaluations or notes from other providers such as physical therapists, records of medication prescription use, etc.
In drawing conclusions based at least partially on psychometric test results, remember that most tests are not validated for telehealth applications, and as a result, the psychologist should be appropriately circumspect in making recommendations.