When do I use the psychotherapy codes?
Psychotherapy codes are used for billing clients and filing health insurance claims with all third-party payers, including Medicare and all private health insurance carriers, for psychotherapy services. Psychologists use the codes for Medicaid reimbursement in states where the Medicaid program includes psychotherapy as a covered service and Medicaid reimburses psychologists as independent providers of psychological services.
What are the psychotherapy code numbers?
The codes most critical to psychologists who provide mental health services involve diagnostic and psychotherapeutic procedures. All individual psychotherapy will be captured through one of three (3) following codes:
90832: Psychotherapy, 30 minutes with patient
90834: Psychotherapy, 45 minutes with patient
90837: Psychotherapy, 60 minutes with patient
Family or group psychotherapy will be captured through one of four (4) following codes:
90846: Family psychotherapy (without the patient present), 50 minutes
90847: Family psychotherapy (conjoint psychotherapy) (with patient present), 50 minutes
90849: Multiple-family group psychotherapy
90853: Group psychotherapy (other than of a multiple-family group)
90847 when utilizing family psychotherapy techniques, such as focusing on family dynamics. Do not report 90847 for family psychotherapy services less than 26 minutes.
Where do I find a list of all CPT codes that psychologists use?
The CPT® manual, published by the American Medical Association (AMA), contains all codes used by psychologists and other health care professionals, along with details about the use of individual codes. This includes psychological and neuropsychological testing and health and behavior (H & B) assessment and intervention codes. Copies of the manual can be ordered online from the AMA, or by calling toll-free, (800) 621-8335.
What if a session is shorter or longer than the time specified in the code?
These psychotherapy services are considered face-to-face services with the individual patient, although time may also include informant(s). However, the patient must be present for all or a majority of the service. The specific amount of time associated with these three (3) code titles may well differ from the actual time you provided psychotherapy. In general, you should select the code that most closely matches the actual time you spent. The CPT manual provides for flexibility by identifying time ranges in the descriptions of the three codes, as follows:
90832: 16 to 37 minutes
90834: 38 to 52 minutes
90837: 53 minutes or longer
The psychotherapy codes should not be billed for any sessions lasting less than 16 minutes.
An important insurance-related pointer: As part of adequate documentation of patient encounters in the record, be sure to note start and stop times for every session of psychotherapy you provide. From an insurance company's standpoint, if you don't record these details, you didn't deliver the service.
Since there is no CPT code associated with psychotherapy sessions that may last longer than 60 minutes, such as exposure therapy, how do I bill for these longer services?
These codes are not intended to limit the length of time you schedule for psychotherapy. Psychologists who conduct sessions that require more than 60 minutes should report CPT® code 90837: Psychotherapy, 60 minutes with patient. Regardless of how long the session lasts, the psychologist's reimbursement will be based on the payment amount ultimately associated with 90837. Generally speaking, psychologists should periodically check their insurance carrier's website for new policies on coverage and billing for services related to psychotherapy codes.
Do insurance companies and Medicare place limits on how frequently a provider can bill the 60-minute psychotherapy code 90837 versus the 45-minute psychotherapy code 90834?
Medicare Administrative Contractors issue Local Coverage Determinations (LCDs) and commercial carriers establish coverage policies for private sector health plans related to use of the psychotherapy codes. Check your MAC website (see list below) for LCDs if you are a Medicare provider, and look for coverage policies on the websites of any private insurance plans with which you are affiliated.
Medicare Administrative Contractor (MAC)
Do I consider time spent doing additional work outside of face-to face time with my patients when deciding which psychotherapy code to use?
No, the time spent arranging for services, providing reports and communicating with other health care professionals is not included in the length of the psychotherapy session. Such activity is considered part of the post-service work already built into the psychotherapy codes. More detailed descriptions of pre- and post-service work for the psychotherapy codes 90832, 90834 and 90837 appear below.
Pre-service work: Prepare to see patient and/or the patient's family member. Review the patient's record. Communicate with other professionals and the patient's significant others such as guardians, caretakers and family members.
Post-service work: Arrange for further services. Coordinate care in writing or by telephone with patient, the patient's family and other professionals such as the patient's primary care provider. Document intra-service and post-service work activities. Provide written or telephone reports to third-party payers.
When do I use the interactive complexity add-on code, 90785?
The psychotherapy codes include "add-on" codes for specific services that can be provided only in combination with other diagnostic evaluation, individual psychotherapy and group psychotherapy services. The add-on codes may not be used in conjunction with the family psychotherapy codes 90846 and 90847. Add-on codes identify an additional part of the treatment above and beyond the principal service.
Interactive complexity, add-on code 90785, refers to specific communications factors that add to the difficulty of service delivery and increase the intensity of effort required of the health care professional in a particular treatment session. This code is intended to reflect added intensity, not added time, involved with delivering a service. Practitioners should not assume that they can bill 90785 for each session they have with a "difficult" patient.
In situations where 90785 may be billed, patients typically have others legally responsible for their care or require the involvement of third parties such as schools or probation officers.
As stated in the CPT® manual, "Psychiatric procedures may be reported 'with interactive complexity' when at least one of the following is present:
The need to manage maladaptive communication (related to, e.g., high anxiety, high reactivity, repeated questions, or disagreement) among participants that complicates delivery of care.
Caregiver emotions or behavior that interferes with the caregiver's understanding and ability to assist in the implementation of the treatment plan.
Evidence or disclosure of a sentinel event and mandated report to third party (e.g., abuse or neglect with report to state agency) with initiation of discussion of the sentinel event and/or report with patient and other visit participants.
Use of play equipment, other physical devices, interpreter, or translator to communicate with the patient to overcome barriers to therapeutic or diagnostic interaction between the physician or other qualified health care professional and a patient who:

Is not fluent in the same language as the physician or other qualified health care professional, or

Has not developed, or has lost, either the expressive language communication skills to explain his/her symptoms and response to treatment, or the receptive communication skills to understand the physician or other qualified health care professional if he/she were to use typical language for communication."
As related to the fourth item above, the Centers for Medicare and Medicaid Services (CMS) has stated that the interactive complexity add-on code 90785 should not be billed to Medicare solely for the purpose of translation or interpretation services. If 90785 were used for this purpose, it would result in higher patient co-payments for the psychotherapy service for a beneficiary who requires a translator compared to a patient who does not need a translator. According to CMS, this scenario violates federal laws that prohibit discrimination on the basis of a beneficiary's disability or ethnicity.
How do I indicate the add-on code for interactive complexity on my billing form?
Both the principal service code and add-on code should be listed on the billing form. See the illustration below showing how to bill for the add-on interactive complexity code 90785 in connection with the code for a 45 minute psychotherapy session using the CMS 1500 form.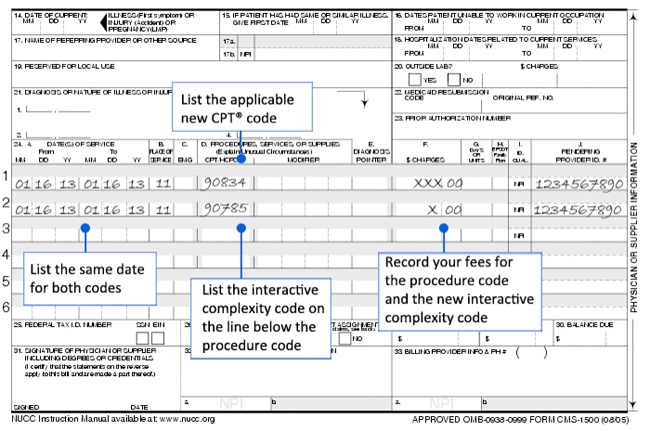 What distinguishes the psychotherapy with patient present codes (90832, 90834 or 90837) from family psychotherapy codes (90846 and 90847)?
With the 30-, 45- and 60-minute psychotherapy codes, the focus of the service delivered is on the individual patient. The codes can be used with the occasional involvement of family members.
With the family psychotherapy codes, the focus of the service delivery is on family dynamics or interactions – or a subset of the family such as parents or children – though the treatment is still intended for the benefit of the patient.
Under what circumstances do I use the new crisis code rather than a psychotherapy code?
The crisis code, 90839, requires that the patient be in high distress under complex or life-threatening circumstances that require urgent and immediate attention. One example: a psychotherapy session where you find the patient is suicidal and you must arrange for the patient to be hospitalized immediately.
To use the crisis code, the psychotherapy session must last for at least 30 minutes. If the session lasts for 75 minutes or more, you would use both 90839 and the add-on code 90840 when billing patients and filing claims.
Whom do I contact if I have problems with Medicare billing and reimbursement?