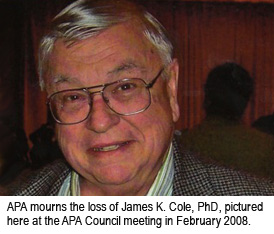 September 30, 2010 — A great advocate for psychology, Dr. Cole served as president of the Nebraska Psychological Association (NPA), chair of the Legislative Committee, co-chair of the Ethics Committee and as the NPA representative to the American Psychological Association Council from 2007 to 2010.

Among his mental health and humanitarian advocacy, Dr. Cole was center stage in a protracted battle against the Nebraska Catholic Conference's (NCC) effort to change state regulations surrounding the referral of clients and potential clients. Dr. Cole told the PracticeUpdate in October 2009 that the NCC's proposal to remove "sexual orientation" from regulations, or to allow counselors to claim a moral exemption, "focuses primarily on excluding gay clients from receiving behavioral health services." Cole testified before the NPA Board of Directors, of which he was a member, against the proposal.
Read Nebraska Psychologists Fight to Protect Practice Standards.
Dr. Cole's research areas included dispositional assessment, clinical neuropsychology, forensic psychology and human sexuality. Among his numerous awards were NPA's Teaching Award and Psychologist of the Year Award. In addition, The NPA created the James K. Cole Lifetime Achievement Award in his honor; Cole was the award's first recipient in 2009.
A member of Div. 12 (Society of Clinical Psychology), Dr. Cole  joined APA in 1966.