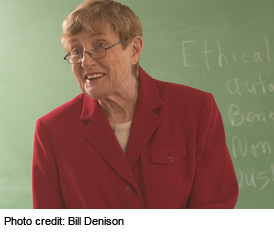 January 27, 2010 — Announcing the death of Widener professor Patricia Bricklin, PhD, university president James T. Harris III, D.Ed., praised "the combined breadth and depth" of her psychology knowledge, calling it "unequaled" at the school. Prior to her two decades at Widener, Dr. Bricklin taught at Hahnemann and Johns Hopkins Universities. She earned her doctorate from Temple University.

An inspirational teacher, prolific researcher and journal contributor, Dr. Bricklin also maintained an independent consulting practice with her husband, and was an enthusiastic advocate for professional psychology and for children and adolescents with learning and emotional disorders and their families. Her multiple leadership titles over the course of her career include: President of the Pennsylvania Psychological Association (PPA), Chair of the Pennsylvania State Board of Psychology, President of the Association of State and Provincial Psychology Boards (ASPPB), Chair of the American Psychological Association's (APA) Committee for the Advancement of Professional Practice (CAPP) and Chair of the APA Insurance Trust.
Dr. Bricklin's awards include The American Psychological Foundation Gold Medal for Life Achievement in the Practice of Psychology, the APA State Leadership Award, the APA Award for Distinguished Contributions to Practice, the PPA's Distinguished Service and Distinguished Contributions to School Psychology awards, and the AASPB's Morton Berger and Roger C. Smith awards. Widener annually honors a third-year student with the Pat Bricklin Award in School Psychology; the PPA bestows the Pat Bricklin Ethics Award at its yearly spring Ethics Educators conference.
A member of nine divisions of the APA and a fellow of 10 more, Dr. Bricklin joined the APA in 1958.