Introduction
Beginning Jan. 1, 2013, all mental health providers must use new CPT® code numbers for psychotherapy when billing third-party payers. This article provides answers to questions from APA Practice Organization members about the new codes.
Please note: This question-and-answer set was prepared based on information available early in December 2012 and is subject to change as we learn more about the 2013 psychotherapy codes and their implementation. The APA Practice Organization will continue to keep members apprised of related developments. Visit the billing and coding section and check our biweekly PracticeUpdate e-newsletter.
This article was updated on Dec. 13, 2012.
When do I use the new psychotherapy codes?
You will use the 2013 psychotherapy codes for billing clients and filing health insurance claims with all third-party payers, including Medicare and all private health insurance carriers, for psychotherapy services provided on or after Jan. 1, 2013. Psychologists will use the new codes for Medicaid reimbursement in states where the Medicaid program includes psychotherapy as a covered service and Medicaid reimburses psychologists as independent providers of psychological services.
Aside from psychotherapy, do other codes used by psychologists change in 2013?
No. The changes in store for 2013 involve only the psychotherapy family of codes — the codes found in the Psychiatry section of the 2013 CPT® manual. There are no changes to other codes that psychologists use, such as testing or health and behavior codes.
What are the new psychotherapy code numbers?
The codes most critical to psychologists who provide mental health services involve diagnostic and psychotherapeutic procedures. For individual psychotherapy, there will no longer be separate codes for outpatient and inpatient settings.
All individual psychotherapy will be captured through one of three new codes. Unlike the existing codes, the new code descriptions in the 2013 CPT manual will list specific times (for example, 45 minutes) rather than a time range (45-50 minutes). The three new codes for 2013 are:
90832 Psychotherapy, 30 minutes with patient and/or family member

90834 Psychotherapy, 45 minutes with patient and/or family member

90837 Psychotherapy, 60 minutes with patient and/or family member
The code now used for a psychiatric diagnostic interview, 90801, will be replaced by two separate codes. Code 90791 will be used for a diagnostic evaluation, while 90792 will be used for a diagnostic evaluation with medical services such as a physical examination.
The billing and coding section contains a list of new psychotherapy code numbers for psychologists (PDF, 280KB) and a crosswalk that compares the 2012 codes to the new codes that take effect on Jan. 1, 2013.
Where do I find a list of all 2013 CPT codes that psychologists use?
The CPT manual for 2013, published by the American Medical Association (AMA), contains all codes used by psychologists and other health care professionals, along with details about the use of individual codes. This includes testing and health and behavior (H & B) assessment and intervention codes, which do not change for 2013. Copies of the 2013 manual can be ordered online from the AMA or by calling toll-free, (800) 621-8335.
What happens if I bill using the old psychotherapy codes for services provided on Jan. 1, 2013 or later?
Effective Jan. 1, psychologists should assume that their Medicare carrier will reject any claims containing codes that have been deleted from CPT and that these claims will require re-filing. We expect that private managed care and other insurance companies are also likely to reject claims filed using the 2012 psychotherapy codes.
What if a session is shorter or longer than the time specified in the code?
These psychotherapy services are considered face-to-face services with the patient and/or family member, with the patient present for some or all of the service. The specific amount of time associated with these three code titles may well differ from the actual time you provided psychotherapy. In general, you should select the code that most closely matches the actual time you spent. The CPT manual provides for flexibility by identifying time ranges in the descriptions of the three codes, as follows:
90832: 16 to 37 minutes

90834: 38 to 52 minutes

90837: 53 minutes or longer
The psychotherapy codes should not be billed for any sessions lasting less than 16 minutes.
An important insurance-related pointer: As part of adequate documentation of patient encounters in the record, be sure to note start and stop times for every session of psychotherapy you provide. From an insurance company's standpoint, if you don't record these details, you didn't deliver the service.
What 2013 psychotherapy code is intended to replace the old 90806 code?
APA Practice views 90834 as the 2013 code equivalent replacing 90806.
APA Practice considers 90834 as the applicable replacement for 90806. It represents the same basic time period, despite the change in description from 45-50 minutes (90806) to 45 minutes (90834). Consistent with the way that CPT codes are now written, the new codes have specific quarter-hour times instead of time ranges. We do not see this change as providing a basis for private insurers to reduce rates when transitioning from 90806 to 90834, and we will make that argument with insurance companies if necessary.
We are aware of some members' concern that, in light of the change from a 45-50 minute range to a specific reference to 45 minutes in the code descriptions, companies will view services billed under 90834 as a 10 percent decrease in service and value, and they will cut reimbursement under 90834 accordingly.
Yet, CMS has assigned to 90834 a payment value for 2013 that reflects the equivalence of 90834 and 90806. The national Medicare payment rate (subject to geographic adjustment) for code 90834 in 2013 is $81; the national payment rate in 2012 for code 90806 was $82, merely one dollar higher.
Initial reports indicate that, in switching from 90806 to 90834, some private insurers are reducing the rate by a dollar or two —similar to the change in Medicare payment. This comparison suggests that these insurers do not view the new code as representing less time.
We are gathering information on how other companies are reimbursing code 90834, along with the other new psychotherapy codes. To assist us in gathering this information, psychologists should send new rate sheets or correspondence from private insurers about psychotherapy payment, along with the corresponding prior rate sheet, to our Legal and Regulatory Affairs Department. As discussed in question three below, some companies have had difficulty with transitioning to the new codes, so the rate picture may not yet be clear for those companies.
Since there is no new code associated with psychotherapy sessions that may last longer than 60 minutes, such as exposure therapy, how do I bill for these longer services?
The new codes are not intended to limit the length of time you schedule for psychotherapy. Psychologists who conduct sessions that require more than 60 minutes may continue to do so and will bill using the new 90837 code effective Jan. 1 . Regardless of how long the session lasts, the psychologist's reimbursement will be based on the payment amount ultimately associated with 90837. Generally speaking, psychologists should check their insurance carrier's website throughout the fall of 2012 and early in 2013 for new policies on coverage and billing for services related to the 2013 psychotherapy codes.
Will insurance companies and Medicare place limits on how frequently a provider can bill the 60-minute psychotherapy code 90837 versus the 45-minute psychotherapy code 90834?
Medicare Administrative Contractors will issue Local Coverage Determinations (LCDs) and commercial carriers will establish coverage policies for private sector health plans related to use of the new psychotherapy codes for 2013. Check your MAC website (see list below) for LCDs if you are a Medicare provider, and look for coverage policies on the websites of any private insurance plans with which you are affiliated.
Medicare Administrative Contractor (MAC)
Do I consider time spent doing additional work outside of face-to-face time with my patients when deciding which psychotherapy code to use?
No, the time spent arranging for services, providing reports and communicating with other health care professionals is not included in the length of the psychotherapy session. Such activity is considered part of the post-service work already built into the psychotherapy codes. This is not something new for 2013, as these activities were considered post-service work under the psychotherapy codes in effect for 2012.
More detailed descriptions of pre- and post-service work for the 2013 psychotherapy codes 90832, 90834 and 90837 appear below.
Pre-service work: Prepare to see patient and/or family member. Review record. Communicate with other professionals and significant others such as guardians, caretakers and family members.
Post-service work: Arrange for further services. Coordinate care in writing or by telephone with patient, family and other professionals such as a primary care provider. Document intra-service and post-service work activities. Provide written or telephone reports to third-party payers.
When do I use the interactive complexity add-on code, 90785?
The 2013 psychotherapy codes include new "add-on" codes for specific services that can be provided only in combination with other diagnostic evaluation, individual psychotherapy and group psychotherapy services. The new add-on codes may not be used in conjunction with the family psychotherapy codes 90846 and 90847. Add-on codes identify an additional part of the treatment above and beyond the principal service.
Interactive complexity, the new add-on code 90785, refers to specific communications factors that add to the difficulty of service delivery and increase the intensity of effort required of the health care professional in a particular treatment session. This code is intended to reflect added intensity, not added time, involved with delivering a service. Practitioners should not assume that they can bill 90785 for each session they have with a "difficult" patient.
In situations where 90785 may be billed, patients typically have others legally responsible for their care or require the involvement of third parties such as schools or probation officers.
As reflected in the CPT® manual, one of the following must occur in order for a practitioner to use the interactive complexity add-on code for that treatment session:
The need to manage maladaptive communication — for example, high reactivity or disagreement among family members.

Emotions or behavior by the caregiver that impede implementation of the treatment plan.

Mandated reporting such as in situations involving abuse or neglect.

Use of play equipment or other physical devices, or an interpreter or translator, required because of the patient's lack of fluency or undeveloped verbal skills.
As related to the fourth item above, CMS has stated that the interactive complexity add-on code 90785 should not be billed to Medicare solely for the purpose of translation or interpretation services. If 90785 were used for this purpose, it would result in higher patient co-payments for the psychotherapy service for a beneficiary who requires a translator compared to a patient who does not need a translator. According to CMS, this scenario violates federal laws that prohibit discrimination on the basis of a beneficiary's disability or ethnicity.
How do I indicate the add-on code for interactive complexity on my billing form?
Both the principal service code and add-on code should be listed on the billing form. See the illustration below showing how to bill for the add-on interactive complexity code 90785 in connection with the code for a 45-minute psychotherapy session using the CMS 1500 form.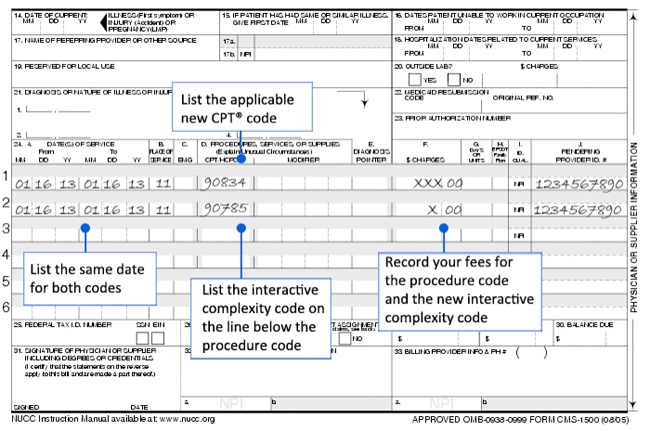 What distinguishes the psychotherapy with patient and/or family member present codes (90832, 90834 or 90837) from family psychotherapy codes (90846 and 90847)?
With the 30-, 45- and 60-minute psychotherapy codes, the focus of the service delivered is on the individual patient (even though the CPT code titles for 2013 no longer include the word "individual" before "psychotherapy"). The codes can be used with the occasional involvement of family members.
With the family psychotherapy codes, the focus of the service delivery is on family dynamics or interactions – or a subset of the family such as parents or children – though the treatment is still intended for the benefit of the patient.
Under what circumstances do I use the new crisis code rather than a psychotherapy code?
The new crisis code, 90839, requires that the patient be in high distress under complex or life-threatening circumstances that require urgent and immediate attention. One example: a psychotherapy session where you find the patient is suicidal and you must arrange for the patient to be hospitalized immediately.
To use the crisis code, the psychotherapy session must last for at least 30 minutes. If the session lasts for 75 minutes or more, you would use both 90839 and the add-on code 90840 when billing patients and filing claims.
Note: This question-and-answer set was prepared based on information available early in December 2012 and is subject to change as the new codes are implemented. For more questions and answers about the 2013 psychotherapy codes, along with additional information and resources for practitioners, visit our Practice Central website.
How will I know if private insurance carriers change psychotherapy payment rates for 2013?
Private insurance carriers likely will publish information on their website and/or send notices to providers during the fall of 2012 about 2013 payment rates. Timing will vary from one company to another, though we generally anticipate seeing private insurance schedules after the Centers for Medicare and Medicaid Services releases Medicare payment rates for 2013 in November. Check the carrier website periodically for payment information and updates.
Will I need new or updated contracts with managed care and other private insurance companies in light of payment changes for 2013?
Most provider contracts by managed care and other insurance companies discuss specific CPT codes only in the fee schedule — an appendix to the provider contract that is designed to be adjustable as rates change without necessitating a revision to the main body of the contract. Therefore, there would be no particular need to update the main provider contract due to new CPT codes. As noted earlier, we expect these companies to issue new fee schedules late in 2012.
Whom do I contact if I have problems with Medicare billing and reimbursement?
Is it a violation of the federal mental health parity law for private insurers to require pre-authorization for the new 60-minute psychotherapy code?
This parity argument appears to have a limited chance of success.
Some private insurers have announced that they will require pre- or post-authorization for use of the new 60-minute code 90837, which applies to psychotherapy sessions of 53 minutes or longer. Some members see the authorization requirement as a violation of the federal mental health parity law, the Paul Wellstone and Pete Domenici Mental Health Parity and Addiction Equity Act of 2008. Others believe that an authorization requirement violates federal parity requirements unless the company similarly requires authorization for extended primary care visits.
APA Practice does not consider it promising to challenge pre-authorization for the new 90837 (60-minute) psychotherapy code as a violation of the federal mental health parity law, and at this time we are doubtful that making the parity argument with insurers would produce the desired result. Even so, we do think it is important for any companies that mandate pre-authorization on 90837 to provide clear, reasonable and transparent guidelines for when they reimburse for these longer therapy sessions.
When billing a private insurer that does not require authorization for 90837 and has not indicated that this code should be used infrequently, you should bill this code if your session time falls into the 53-minute or more time frame that pertains to 90837. We recommend, however, that you record your exact session start and stop times in your clinical note (for example, 1:02 to 1:57) when billing the new codes, as Medicare providers must do. At any point, a company can ask you for appropriate documentation or explanations. Also be mindful that if you have historically billed a company primarily the 45-50 minute code and switch to primarily using the new 60-minute code, that company may ask you to explain this change.
Why have some private insurers had difficulty with adopting the new psychotherapy codes?
Several factors may be responsible, but we believe prompt payment laws should still apply.
We have heard several reports of difficulty with private insurers' adoption of the new CPT codes. For example, one company reportedly told providers that the company was not ready to use the new CPT codes and that providers should continue to bill under the old codes until further notice. Another company indicated that psychologists should bill using the new codes, but has not yet announced the corresponding reimbursement rates. Yet, another company retracted reduced rates issued around January 1 and announced that it will not reduce rates.
One factor underlying such difficulties may have been the Sustainable Growth Rate payment cut in Medicare rates of 26.5 percent that had been scheduled to take effect on Jan. 1. The drastic cut was averted for 2013 on January 2 when Congress passed the "fiscal cliff" legislation, which included a provision postponing the huge SGR payment cut. Companies that had not yet prepared for this possibility would have been forced to scramble in order to adjust payment rates for 2013.  
We are hoping that those private insurance companies that have not yet completed their conversion to the new codes will do so in the very near future. APA Practice believes, regardless of the cause of difficulty thus far, private insurers should not be excused from complying with applicable prompt pay laws.
Psychologists who continue to have issues after February 1 with private insurers' transition to the new psychotherapy codes should contact APA Practice Organization or call Practitioner Helpline at (800) 374-2723.
What was psychology's role in the psychotherapy codes review process?
Revisions to the family of psychotherapy codes for 2013 resulted from the Five Year Review, the process by which the Centers for Medicare and Medicaid Services (CMS) periodically review all codes. Throughout 2011, psychology, along with psychiatry, child and adolescent psychiatry, social work and nursing, participated in a CPT coding workgroup to review the current psychotherapy codes and recommend changes. Psychology's representatives fought continuously to protect the profession's interests throughout the year-long code review process. Psychology was represented in the coding process both by its advisors to the CPT coding workgroup and its representation on the CPT Health Care Professionals Advisory Committee.
The multi-specialty workgroup was involved in evaluating the definitions of services under the existing psychotherapy family of codes and recommending work relative value units (RVUs) for the new codes. The APA Practice Organization conducted a member survey early in 2012 as part of the process of determining recommended RVUs for the new psychotherapy codes. Other associations involved in the workgroup also surveyed their members.
The workgroup then brought its suggested work values to the Relative Value Update Committee (RUC), which in turn made recommendations for new code work values to CMS. The work values that CMS adopts for the new codes will be applied to a formula used by the agency to determine Medicare reimbursement rates for psychotherapy services beginning in 2013.
APA was actively involved in the RUC process both through the multi-specialty workgroup and its representation on the RUC's Health Care Professionals Advisory Committee.
All participants in the CPT and RUC processes must sign strict confidentiality agreements required by the AMA to guard against premature release of information about coding and payment changes. Payment information will be made public when CMS announces how Medicare will value the new psychotherapy codes in its final rule on the 2013 Medicare fee schedule, expected in November.