With its release in late November of the Medicare final fee schedule for 2014, the Centers for Medicare and Medicaid Services (CMS) strongly affirmed the value of mental health services. The federal agency raised the work values associated with the family of psychotherapy codes, thereby recognizing the difficulty and complexity of providing these services. The CMS action resulted in a jump of 8 percent in total payment pool allocated for Medicare psychological services in 2014, following years of decline (see graph below).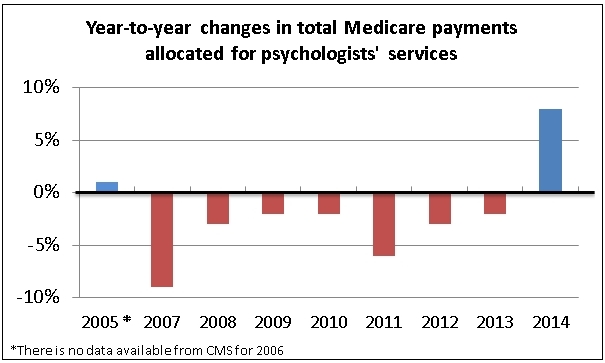 Data from CMS Physician Fee Schedule 2005-2014.
After nearly a decade of incurring some of the biggest payment losses among Medicare providers, psychology will have the second highest increase among specialty groups in 2014.

Comparative Impact of 2014 Final Rule Changes on Selected Specialties
Percent change from 2013 in Medicare payment allocations

Specialty

Percent increase or decrease

Chiropractic

+12%

Psychology

+8%

Social Work

+8%

Psychiatry

+6%

Emergency medicine

+2%

Cardiology

+1%

Family Practice

0%

Neurology

-1%

Radiology

-2%

Rheumatology

-4%

Pathology

-6%
Table 93, 78 Fed Reg 74800 (2013).
Two advocacy processes in which the American Psychological Association (APA) and APA Practice Organization (APAPO) have been extensively involved helped yield the positive outcome. Beginning in 2009, the organizations began their engagement in a CMS five-year review of the valuation of psychotherapy codes. The ultimate goal for organized psychology was to win the federal government's recognition of greater cognitive effort and complexity — known as the work value — involved in delivering psychological services, accompanied by higher valuation of these services.
In collaboration with psychiatry, social work and nursing, psychology ultimately achieved its goal — first by gaining recognition through the American Medical Association (AMA) Current Procedural Terminology (CPT) and Relative Value Update Committee (RUC) processes, and then by CMS. The federal agency accepted higher work values for psychotherapy services recommended by the RUC based on surveys that included psychologists.  
Additional advocacy throughout 2013 involved the Government Relations Department for APAPO continuing on both the legislative and regulatory fronts to pursue necessary changes to Medicare payment for psychological services by:
Gaining meetings with top CMS officials including Jonathan Blum, deputy administrator of CMS.
Submitting comments to CMS in response to the proposed 2014 Medicare fee schedule rule.
Securing regular meetings of APAPO lobbyists with key congressional health care committee members and staff.
Emphasizing Medicare payment issues in meetings during APAPO-PAC events.
Providing extensive input to congressional committees in response to invitations by key House and Senate committees considering Medicare payment reforms.
Convening meetings of grassroots psychologists from throughout the U.S. with their elected officials on Capitol Hill about the need for Medicare payment reform. A record 330 visits to Capitol Hill took place during APAPO's March 2013 State Leadership Conference.
"Along with work values that CMS assigned to psychotherapy services, we believe our aggressive advocacy efforts contributed to the very positive news for psychology and helped divert major losses for the profession when the 2014 fee schedule was released," says Doug Walter, JD, acting associate executive director for government relations for APAPO. As reflected in the chart above, other provider groups did not fare as well.
Even so, because of a complicated pattern of fee increases and decreases, the fee schedule is a mixed bag for individual psychologists depending on the services for which they bill. In contrast to the uptick in work values assigned to psychotherapy services, other adjustments to the Medicare formula that drives payment levels will result in decreases for certain psychological services for 2014. The set of questions and answers accompanying this article provides additional details.
Congressional budget deal also affects 2014 payments
Legislation just passed by Congress will affect all health care providers' Medicare payments in 2014, not just psychologists.
The Bipartisan Budget Act of 2013 passed the U.S. House of Representatives on Dec. 12 and the Senate on Dec. 18.  The congressional budget deal contains provisions that affect payment for all Medicare services, including psychological services, beginning Jan. 1, 2014:
Three-month postponement of the SGR cut: The newly passed budget act temporarily blocks the scheduled 24 percent across-the-board Medicare provider payment cuts related to the Sustainable Growth Rate (SGR) formula, in order to give the House and Senate health committees more time to permanently repeal this flawed Medicare cost containment formula. The bipartisan budget deal averts the cut until March 31, 2014, and replaces it with a modest 0.5 percent payment increase for Medicare services. As part of the advocacy spearheaded by APAPO, grassroots psychologists sent approximately 6,200 messages to their members of Congress to block the SGR cut for 2014.
Two-year extension of sequestration cuts: As part of ongoing congressional efforts to contain Medicare provider payments, the Budget Control Act of 2011 required automatic cuts in spending, known as sequestration, that include an across-the-board annual cut of 2 percent for all Medicare provider services for 10 years. The new budget deal extends for two years the sequestration cuts contained in the 2011 budget act. The 0.5 percent increase noted above will help offset the impact of sequestration for the first three months of 2014.
Like other Medicare provider groups, APAPO is fighting sequestration. While most members of Congress recognize that sequestration is unsustainable, it is part of the larger partisan deadlock in Congress about how to deal with the federal government's debt and therefore difficult to eliminate.
Yet with the help of grassroots psychologists, APAPO will continue efforts in 2014 to end the SGR, eliminate the cut related to sequestration and  win better and more appropriate reimbursement for psychologists' services in the Medicare program.