Psychologists prepare to provide support at Boston Marathon
Disaster Response Network members will be among the mental health professionals offering care during the one year anniversary of the tragedy.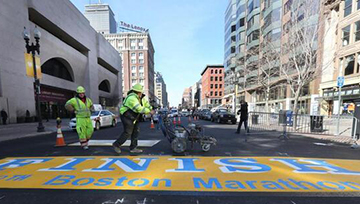 Psychologists in the Massachusetts Disaster Response Network (DRN) and other mental health professionals from the Massachusetts Red Cross Disaster Mental Health (DMH) activity were invited to join the Boston Athletic Association's Medical Team in offering care at the first anniversary of the Boston Marathon bombing. On April 21, 2014, the Boston Marathon will bring together experienced and first-time runners and event workers to honor those who were injured or killed in last year's tragedy, and to bring hope to this race tradition.
There is concern that runners and event workers may experience anxiety, distress or other emotional reactions brought on by being at the scene of last year's bombings. Nicole Issa, PsyD, and Janice Kaufman, PhD, who lead the Massachusetts DRN program, have worked closely with Boston Athletic Association Medical Team psychologists Jeffrey L. Brown, PsyD, and Beth S. Meister, EdD, to see how the DRN might be able to help.
To increase the availability of psychological support at the marathon, approximately 20 DRN members will be at posts in medical tents or at the finish line starting at 7 a.m. on race day to offer assistance to runners and staff.
DRN and Red Cross DMH volunteers have received additional training on the psychology of running and common medical and psychological issues on race day. "This is a great opportunity for Massachusetts DRN psychologists to support the marathon and the Boston community," says Issa. "Having DRN members on hand as needed places psychologists alongside physicians, nurses and paramedics. The Boston Athletic Association recognizes the importance of psychologists in medical tents and within the field of sports medicine as a whole."
APA's Disaster Response Network (DRN) is a group of approximately 2,500 licensed psychologists across the U.S. and Canada who have expertise in the psychological impact of disasters on individuals, families and communities. Informed by psychological research, DRN members voluntarily engage in preparedness, response and recovery activities.
To find out more about your state or provincial DRN program and how you can become involved, please contact the APA DRN Office.